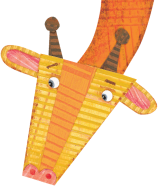 TWO Starred Reviews for PLAYTIME RHYMES!
PUBLISHER'S WEEKLY
Marc Brown's Playtime Rhymes: A Treasury for Families to Learn and Play Together
October 2013/ Ages 3-6/ $18
Brown shares 20 favorite "finger rhymes," using tiny iconlike boxes to demonstrate the hand gestures and bodily movements that accompany each line of verse. For "The Wheels on the Bus," a cartoon boy mimics the movement of the wheels by spinning his hands round and round (arrows indicate movement); in the main illustration, a trio of passengers board a bus piloted by a cheerful redheaded woman in sunglasses. Other songs include "I'm a Little Teapot" (which features an anthropomorphic floral teapot and five teacups dancing around like ballerinas), "The Itsy Bitsy Spider," and "Five Little Pigs." Brown's gouache and colored pencil artwork—which involves painting, scraping, and repainting gessoed wood panels—gives the book a vintage, weathered effect as it loosely guides readers through the seasons of the year and offers many hands-on opportunities for adult-child play.

***STARRED***
KIRKUS

Marc Brown's Playtime Rhymes
October/ Ages 3 – 6/ $18.00
Twenty of Brown's favorite finger rhymes, complete with tiny pictograms to demonstrate motions and actions for each phrase.

Compiled from Brown's previous collections (Finger Rhymes, 1980; Hand Rhymes, 1985, etc.), all of the rhymes are classics. The words themselves will take adult readers back to childhood, and candy-striped endpapers and cozy illustrations painted on wooden panels give the whole package a decidedly old-fashioned warmth. Familiar rhymes such as "I'm a Little Teapot" and "The Wheels on the Bus" are mixed in with the simple (literally, only using one hand) "Whoops! Johnny" and "Sleepy Fingers." As with all folklore, there are many versions of these rhymes. Some individual words or actions may be different than remembered, but nostalgia will carry readers through. The animated gestures next to each line are relatively easy to imitate and will send hands whirling, fingers fluttering, and arms stretched out wide. Brown created all new illustrations for this work, but alas, some are only slightly re-imagined from his previous collections. Parents, grandparents, teachers and librarians will surely appreciate having these favorites in one treasury, but an additional spark would have been welcome.

Just right for family play, while honoring the tradition of passing these rhymes to future generations.