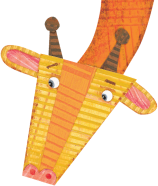 Drawing Arthur all these years…
Arthur has changed over the years, have you noticed? When I first drew him for my son in 1976, he looked more like an aardvark. He had a very long nose and that's where the idea for the very first Arthur story started. He was worried about his nose and wanted to change it because it was giving him all kinds of trouble. Arthur has many problems in his life as we all do but it's always fun to see how he deals with his problems and solves them.
I've been drawing Arthur now for almost 40 years and the more I drew him, the rounder his head became. His nose got shorter and he began to look more human. Over the years I got to know Arthur better and better. He, and all the characters I write about in Arthur's world came from real people I grew up with and knew as a child. I think that's one reason so many kids can identify with my characters. I hope you'll enjoy this film about how I draw my characters. And I hope it will also inspire you to draw and invent some characters of your own.
I can't imagine a day when I don't draw or doodle. In first grade, I got in trouble for drawing in school. My friend, Alan liked to see me draw race cars and rocket ships but my teacher thought I should be doing my school work. And in fourth grade I got into trouble for daydreaming too much. And today my job is daydreaming and drawing. I wonder if my teachers would be surprised to know that I turned out just fine, even though I'm drawing and daydreaming.
Although I write many books and am considered an author, my favorite part of telling the story is with the pictures. So, I guess I consider myself more of an illustrator than an author. It just so happens that I have to write the story so i can illustrate it. And I want you to know how lucky I feel each morning when I go to my studio. I get to do what I love, writing and illustrating stories that many kids enjoy reading.
I never imagined that my books would turn into a television series. Soon it will be twenty years that Arthur has been one of the most popular children's shows on PBS. He is now the longest running children's animated TV show in history. Right now we are working on more new episodes for you to watch.
I want to thank you for reading my books and watching my TV shows
Your friend,
Marc Brown
27 Responses