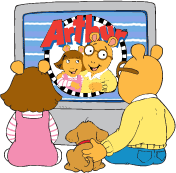 What a
WONDERFUL
kind of day!

In 1994 WGBH and PBS approached Marc Brown about the possibility of adapting the Arthur books to a television series. The objective of this new series would be to use the powerful mediums of animation and television to excite kids about reading. To say it worked would be an understatement. Arthur almost instantly became the most watched children's show on television. The series has won 6 Emmy Awards and 25 Emmy nominations. Arthur also received the prestigious George Foster Peabody Award for excellence in broadcasting. Arthur is now the longest running animated children's television series in history.
Arthur TV SHOW credits

The shows are produced with WGBH in Boston and Cookie Jar Entertainment in Montreal. These are the geniuses that make the ARTHUR television show so good:

Peter Hirsch
Brilliant
Head Writer

Greg Bailey
Amazingly Talented
Director
Carol Greenwald
Wonderful Executive
Producer
Tolon Brown
Producer,
VP On-Screen Media

Marc Brown
Executive
Producer
Arthur CELEBRITY guests

We have had the priviledge of working with many celebrities and cultural icons in the Arthur show:

Jack Prelutsky
As himself on the episode I'm A Poet

Fred Rogers
As himself in a surprise visit to Elwood City

Art Garfunkel
As the"Singing Moose"

Yo Yo Ma
As Redman's rival

Joshua Redman
As himself, as Francine's uncle

Alex Trebek
As "Alex Trebek" on the episode when Arthur is on a game show

Michelle Kwan
As herself when Francine learns to skate

Backstreet Boys
As themselves in the hour-long special "Arthur: It's Only Rock and Roll"

Larry King
Inteviews theArthur characters during the interstitialon PBS's telecasts

Tom+Ray Magliozzi
As Click and Clack from "Car Talk" radio show on the episode "Pick a Car, Any Car"

Arthur Ganzon
As himself on the episode "Muffy's Art Attack"


Taj Mahal
As himself, helping George write music

Frank Gehry
As an architectt hat helps the gang build a new treehouse

Rodney Gilfry
As himself on the episode "Lights, Camera, Opera"

Johnny Damon
As a player on the episode "The Curse of the Grebes"

Edgar Renteria
As a player on the episode "The Curse of the Grebes"

Mike Timlin
As a player on the episode "The Curse of the Grebes"

Ming Tsai
As a judge for a cooking contest at Lakewood Elementary School

Matt Damon
As himself on an episode about the creation of the Arthur show

Joan Rivers
As Francine's grandmother on the episodes "Is that Kosher?" and "Grandpa Dave's Memory Album"

Philip Seymour Hoffman
As "Will Toffman" on the episode "No Acting Please"

Neil Gaiman
As himself on the episode "Falafelosophy"

Michael Fincke
As himself on the episode "Buster Spaces Out"

Alan Cumming
As "Sebastian" on the episode "Show Off"