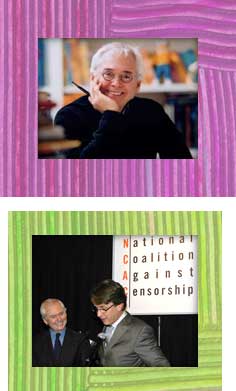 Marc Brown's
speaking
ENGAGEMENTS
Marc enjoys speaking to children, students, educators, parents, and all who are interested in his work. Not only does he speak about his career as an author-illustrator, but also he frequently discusses the importance of reading to young children and is considered by many to be one of the prominent voices in the push to make literacy a priority in families and children's lives. He also enjoys speaking to art students, and on college campuses about the power that art and illustration can have. An energetic, thoughtful, and engaging speaker, Marc is sure to provide a wealth of knowledge to each group of people he speaks to.
lectures AND speaking TOPICS
The Aardvark Was My Warm-Up Act.
Learn about Marc Brown, his journey to becoming an award-winning author-illustrator and the world that Arthur opened up for him in this engaging lecture, perfect for all ages.
Why Illustrations Matter.
Just how important are those illustrations in a picture book? Marc Brown shows why illustrations matter in this interactive lecture perfect for art schools and students.
The Secrets to Getting Children to Love Reading.
It is never too early to read to your children, and in this lecture, Marc Brown discusses the importance and value of reading at any age, a parent's role in reading, and the value that picture books have in establishing new readers. Perfect for parents, educators, and all who have a love for reading.
Why is Arthur on TV?
In this lecture, Marc discusses the road that Arthur took from book format to the screen, and how print and television mediums can be used together to further enhance the reading experience for young children. Perfect for all audiences.
To invite Marc Brown to speak at your event,
EMAIL Marc directly at: m.brown@arthurworldwide.com or Marc@MarcBrownStudios.com