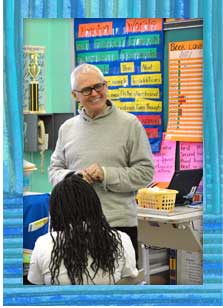 What HAPPENS during a SCHOOL
visit?
"My goal is to excite kids about writing and illustrating their own stories. In my presentation
I share how I write my stories and where my ideas AND CHARACTERS come from. I have designed a fun
powerpoint that shows my home, studio, family, our farm animals and other things kids and teachers
will appreciate. I include two books as well that I read with the images projected for everyone
to easily see. I would ask that the schools provide a projector and screen that I can hook my laptop
to and a microphone. I am very comfortable with large groups. I also like to have a large pad and
sturdy easel to draw for the kids. All my drawings are given to the school." – Marc Brown
how can YOUR SCHOOL join the party?
Bringing Marc Brown in to your area for community-wide school visits can be the perfect way to celebrate literacy and creativity. Marc's engaging and inspiring presentations are best shared among multiple schools during multi-day visits in a One Author, One Community celebration. To invite Marc, band together with several schools in your area with a proposed schedule of visits. Each school will receive a three hour visit that includes a presentation and book signing. As Marc visits schools in the mornings and afternoons in your area the excitement can't help but follow along. To find out more about school visits contact Danielle or Christine.
can YOUR SCHOOL sell books for profit?
If your school would like to offer books for sale. Little, Brown and Random House provide books
for author signings at a savings of about 50%. All unsold books may be returned. Schools can sell
books at full price as a fundraiser or pass along the savings.
TO HAVE MARC visit your school or library, PLEASE CONTACT EITHER
Danielle Yadao
Little, Brown Books for Young Readers
(212) 364-1541 Danielle.Yadao@hbgusa.com
Christine Labov
Penguin Random House Speakers Bureau
(212) 782-9347 clabov@penguinrandomhouse.com